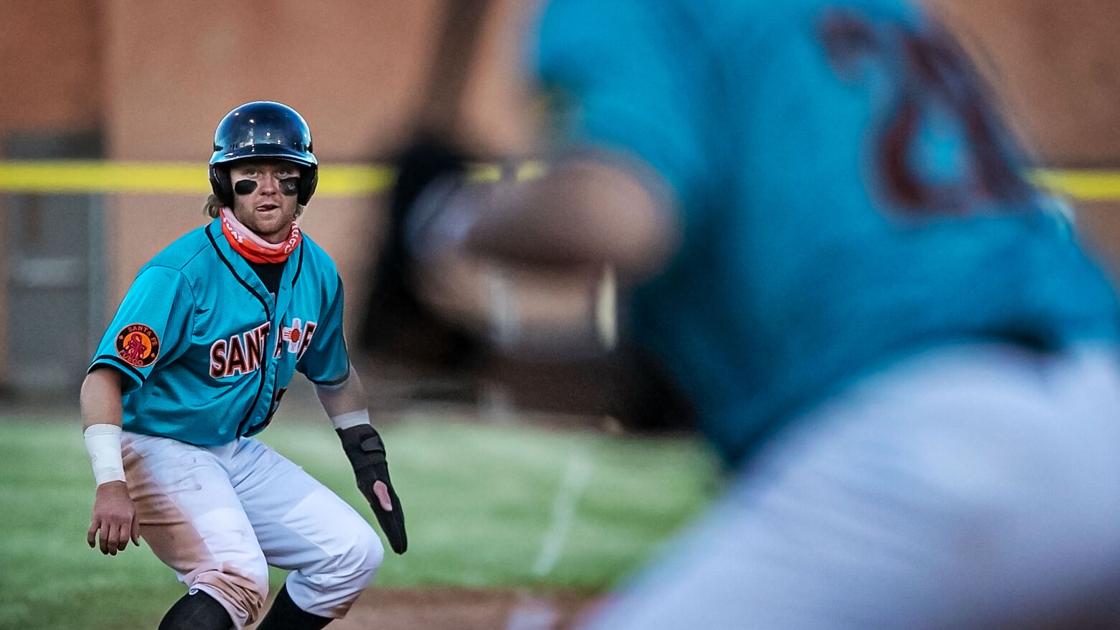 While some of the memories have been left in the ether of time, the visual of a little boy of a heavy wooden bat heading by helicopter towards his face is forever preserved in a slow-motion loop.
It was 2004 and 5-year-old Declan Peterson was counting the hours until his first day of school when, during a spring training game with his cousin and grandparents in Florida, he nearly failed. being killed by a wayward bat thrown into the stands during a Twins-Red Sox match. He suffered multiple skull fractures, lost 20/20 vision in one eye and was forced to take a year off sports.
While in hospital, doctors told his mother, Elaine, that there was nothing more they could do for him. They told his father, Edward, that he could suffer permanent damage in one form or another.
As crazy as it sounds, it might have been the best thing that ever happened to Declan.
"I was drinking a soda with my cousin on the third base side when I saw this thing fly right at me," said Peterson. "I remember really enjoying golf when I was a kid, but after that it started this lifelong love of baseball for some reason. It has been my goal ever since. I guess it made sense to me somehow.
Seventeen years later, Peterson received a healthy reminder of how dangerous baseball was. Just hours before his professional debut as a starting second baseman for the Santa Fe Fuego, the 22-year-old was pierced inches below his right eye by a batted ball during batting practice at Fort Marcy Ballpark. It left a golf ball-sized mark near his cheekbone, but it – much like the incident from his youth – only strengthened his resolve to be on a baseball diamond.
"The kid is a fighter, always has been," Edward Peterson muttered, leaning forward on the concrete steps of Fort Marcy to get a better look at his son during a game last week. "Every time he injures himself, he rubs two Advils on it."
Edward, Elaine and Declan's teenage brother Dylan drove 23 hours from their northern Illinois home to see Declan's final stop on a baseball trip. This took him from the Chicago suburbs to two NCAA Division III schools, one in Chicago and the other in Steubenville, Ohio.
Of all the places he thought he would end up, Santa Fe was probably near the bottom.
Like many players in the Pecos League, Peterson had never been to New Mexico let alone heard of Fuego. The only thing he knew was that he wanted to keep playing ball, keep holding on to the dream he started having when he was lying in a Florida hospital room there. has all these years.
With his eye swollen and a swollen, aching skull, Peterson received a bedside visit from Red Sox owner John Henry. Moments before someone in the room handed Peterson a pack of baseball cards, giving him plenty of time to flip through the pictures while Henry asked him a question.
"He wanted to know if I had a favorite player and I was just holding a Curt Schilling card," said Peterson. "I didn't even know who Curt Schilling was."
Henri obliged. After trading to Schilling – who, by the way, rose to fame a few months later against the despised Yankees in the American League Championship Series – Henry got his star pitcher to sign a jersey and hat that the team wore. presented to the family.
Peterson also got the bat, which fell out of the hands of Michael Sandoval, the younger brother of current big leaguer Pablo "Kung Fu Panda" Sandoval.
"It was also a huge bat," says Peterson. "Like 34½ inches. Much bigger than anything I would use. It's like a log.
Peterson has since reached out to Sandoval on social media and has written about his incident several times for school-related projects. By hooking up with Sandoval, Peterson got the chance to tell him that the years had been good for him, that there was no reason for remorse or guilt.
It was incidents like his that ultimately led to mandatory nets in all major league parks, protective screens that kept countless people from going to the emergency room.
Peterson likes to tell people that the nightmarish moment he experienced as a child was actually a blessing. He jokes that his grandfather, whom he calls PopPop, had the worst. The two were sitting next to each other when Sandoval sank down.
"We went to the pool a few days later and my dad takes his shirt off, and there's this long purple bruise on his middle," says Elaine Peterson. "Oh my God, so many memories that I forgot sort of come back now that I think about it."
Stopping to watch her son make his way to the plate after being introduced by the Fort Marcy presenter, she chokes a bit as she chooses her next words.
"But look at him now, he's still playing and he's happier than ever," she said. "He became a professional baseball player and it all started with a trip to the hospital."
Peterson is down to earth when it comes to his time in the game. As an intermediate fielder at college at Concordia (Chicago) and then at Franciscan University, he only hit one home run, forging himself a reputation as the David Fletcher type of the Los Angeles Angels; batter slaps with deceptive speed and a rock solid glove.
Entering Saturday night's game against Trinidad, he was down .323 with three home runs and a .967 fielding percentage on the ruthless bumpy fields of the Pecos League.
"Being in this league, the long road trips, the long hours and sometimes not having enough sleep or decent food, it really tests you," says Peterson. "It really makes you see how much you want to be here. I like it. I want this. I don't know how long it's going to last but, you know, I have fun with it while I can.
For a kid whose initiation into the sport wasn't exactly tiptoeing through the tulips, this is a perfect match.